These are special times we are living in at the moment. Amidst all the crises, are we ready for an exuberant music festival? Is Europe's biggest club festival, where the global music industry and fans from all over the world meet, still as good as it was before the pandemic and before Brexit? Can one drift through the numerous clubs and events without hesitation? Or is the festival in danger of becoming a super-spreader event like SXSW last spring?
To be honest, I had my doubts. But after a two-year break, it was about time to see all the friends and colleagues again. The Reeperbahn Festival usually is a great get-together. A good opportunity to make new contacts and get fresh input. And of course, to see live shows by artists you already know and appreciate, but also to discover newbies. So far, the festival has always provided pleasant surprises. What about #RBF 2022?
Naima Bock
Luckily, my train wasn't running late, so I was able to catch London singer-songwriter Naima Bock, who performed at Festival Village in the early evening on Wednesday. Bock's debut album "Giant Palm" is not the usual folk-inspired songwriter affair. It contains expansive arrangements, jazzy moments and, of course, her Brazilian background. Over 30 musicians participated in the recording. Now for the live performance at the Reeperbahn Festival, everything is stripped down. High up on the stage above the counter of the local drinks company "Fritz Limo" we see Naima Bock with her acoustic guitar, accompanied by violinist Oliver Hamilton. This strange setting alone did not work well with her soul-searching music. Furthermore it is disturbed by heavy beats blaring from the rollerblade disco just a stone's throw away. The clash of sounds was very unfortunate for the conversational intimacy Naima Bock usually creates. Clearly, she deserves better than that.
Dana Gavanski
Fortunately, Dana Gavanski's performance later in the evening was booked at a more suitable venue: the hallowed walls of the neoclassic St. Pauli church. Of course, the reverby sound can be quite a challenge for an electrified ensemble, but Gavanski and her band sounded excellent. I would even say it was the perfect ambience for her stunning voice and her idiosyncratic songwriting, which comes across as elegant and tender. And it is palpable, how everyone is enjoying it: how the band easily connects with the audience – smiles are all around. My friend Dino, who's hearing Gavanski's music for the very first time mentions the innovative British act Broadcast. If this is an influence, it's one of many. During the set we get to hear two cover versions: The sentimental The Kinks composition "Strangers" plus King Crimson's "I Talk To The Wind". Both tracks fit seamlessly into Gavanski's own work. The cozy gig ends after midnight and is already my highlight of this year's Reeperbahn Festival. But there are three more days to go!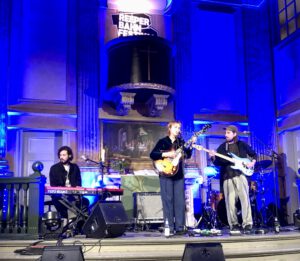 This 17th edition of the Reeperbahn Festival is a pioneer in diversity and equality: 50% of the conference panels and 55% of the music line-up are female staffed. And it's good seeing this positive change – even if the majority of the audience is still old and male, because that's the music business, right? Anyway, there are 400 shows on and it's impossible to see everything. Though some artists play two or even three shows. A good way to cope with it all is just to browse through the clubs, to go with the flow. The Reeperbahn Festival has very few established names in the line-up, it's mainly for discovering new talents. But I have to confess: a lot of them don't resonate with me. Some are simply trying too hard, others are just uninspired. A lot of it sounds and looks very much like coming straight out of the pop academy, made for the industry.
November Ultra
However, I was very relieved to discover at least one great artist on Thursday who I had never heard of before, but who seemed authentic and played a wonderfully intimate show at the plushy Imperial Theatre. She calls herself November Ultra, is hailing from Paris and sings soothing DIY lullabys with a soft voice and sparse instrumentation. Her performance started with a mini keyboard and from the very first second on, the audience was absolutely captivated by the tender melodies and overflowing emotions. In between songs the French artist was up for lovely banter, she made the audience laugh and animated to sing along. Although November Ultra only works with simple chords, her music came very close to the listener. A feeling that she conveys with her voice alone, so vulnerable and easy to relate to – it left a lasting impression on me and my friends.
Alex Lahey
Next up: Friday: The day-tickets were sold out and I feared that this means long queues outside the venues. The legendary Molotow was actually pretty packed when Alex Lahey played her solid indie-rock set at 5pm in the afternoon. This is the kind of event when you completely forget about time and space and just bob along with music. A lot of hair was shaken, a lot of hands in the air and wild applause when Lahey unexpectedly put away her guitar in exchange for a saxophone. She knew exactly what she was doing and where she was. At the end of the show she says, she loves playing music to people who love music. Adding, that everyone here is working. Well, yes: some of us are. But Alex Lahey made the most of it. Her live set was fun for everyone, working or not.
Kiwi Jr.
Later that night at the Molotow backyard, Kiwi Jr. played their very first show in Germany. I had this band from Toronto on my radar since they released their fantastic debut album "Football Money" in 2019. At first, the band seemed a little irritated, as if they didn't quite know what to expect. Maybe because they had to take over the stage after an act that appealed to a completely different audience. Well, there was no need to worry about that. Kiwi Jr. had a couple of fans in the crowd happily dancing and singing along to the upbeat jangly indie rock tunes. They were just as fun and infectious as on record.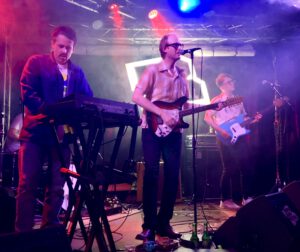 On the fourth day of the Reeperbahn Festival, a certain concert fatigue often sets in. I went to see a few gigs, but nothing really captivated me. Even so, it's absolutely fine. I had my highlights with Dana Gavanski, Kiwi Jr. and November Ultra.
Now I've been back home for a few days and haven't heard of a single case of Covid – phew! Brexit wasn't an issue either, there were many artists from the UK performing in Hamburg. Almost everything was as good as it used to be. I am already looking forward to the sequel #RBF 2023. Early bird tickets are on sale here.