I have a lot of love for chiming guitars and music made in Scotland, particularly for Glasgow's Teenage Fanclub. October 9th in 1990, I was one of nine people in the audience, when the band played their very first gig in Hamburg. A billboard sign outside the Motolow announced "Teenage Fanclub from England". To make things clear, someone crossed out the term England and wrote Scotland in capital letters. It was a night to remember.
Techno & Tequila
Despite the small crowd, the performance was powerful, the sound quite raw and the hair pretty long(ish). After the show I went to a bar called Sparr and bumped into the crew of young Scotsmen again. Somehow, guitarist and singer Norman Blake spotted my English textbook and started talking to me. I explained to him I had a test in school early next morning and still need to learn some stuff. That night I definitely brushed up my English. But I missed the exam because me and my friend Sonja ended up hanging out with Norman Blake and Raymond McGinley for a few more hours.
There's no curfew in Hamburg and we cruised up and down the legendary Reeperbahn. We drifted into pubs and bars, danced in a shady techno club, drank way too much tequila, had awful coffee in the morning and played a round of Trivial Pursuit in the tour van before parting ways around midday. At that point I had no idea, that Teenage Fanclub were about to produce some of the finest records ever and that I'd still be friends with them almost three decades later.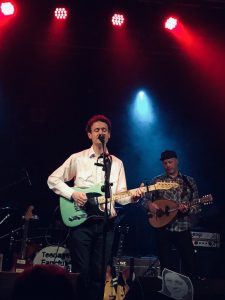 For some reason, Teenage Fanclub have never failed to deliver the quality. They proved to be a cherished constant in turbulent times, survived the ups and downs of the music biz, the era of grunge and Brit-pop by just carrying on doing their own thing. But the idea of celebrating the sublime years and reissues of Creation Records with a three-night concert series seemed very ambitious to me. Some songs never played live before had all to be learned from scratch. Furthermore the original drummers were invited to get back into action. Do they actually still know how to keep the tempo?
On top of all, it was announced that bass player, songwriter and vocalist Gerard Love is parting ways with the band right after this tour. It's the end of an era, but not the end of Teenage Fanclub. However, there was no way I was going to miss this very last chance to hear the three distinct songwriters performing their irresistible, much loved harmonies.
Blow away the cobwebs
In retrospect, I'm glad I went to the three-night residency in Birmingham and not only to the London shows. The O2 Institute in Birmingham was a mid-sized venue, packed with devoted fans from all over the world and offered a more intimate environment compared to London. The first night was all about Bandwangonesque (1991) and Thirteen (1993) They played both complete albums in the original order, only interrupted for a small break between sets. And when Teenage Fanclub kicked off with The Concept, the magic happened: hearing the spirit of 1991 is like receiving the holy grail. It's an overwhelming feeling, a throwback into youth and not only a thing of nostalgia: the band sounded better than ever.
Also, it was a joy to see the original drummer from the early years, Brendan O'Hare. He may not be the most formidable percussionist, but he created a great sense of fun and played an unexpected role during this series of concerts. I suppose I wasn't the only one who went to these shows with mixed feelings. There was a delicate sense of uneasiness in the air knowing Gerard will soon separate from the band for good. Whenever things turned a bit awkward, Brendan had a charming way to deal with it. Like when a small crowd on night two in Birmingham kept singing a slightly annoying version of Haddaways What Is Love for the soon departing Mr. Love, Brendan saved the situation by stepping on stage, frankly saying: "On behalf of the band – shut the fuck up!".
Goosebumps
Night number two was all about Grand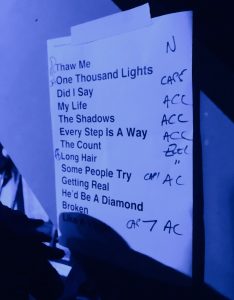 Prix (1995) and Songs From Northern Britain (1997) and presented the most successful episode of Teenage Fanclub's back catalogue. Here, we had Paul Quinn back on the drums. He delivered a tight backbone to the songs and enjoyed playing along with his old pals again. But I wondered what it's like for Francis, having to clear his seat most of the time for Brendan and Paul. Francis MacDonald nearly disappeared in the back behind a pile of instruments and almost secretly added whatever was needed. He filled all gaps by playing along and singing harmonies and showed he's a pretty versatile all-rounder.
Just like Dave McGowan, who also added some salt into the mix and necessary extras to the sound of Teenage Fanclub. It's obvious, how much he enjoys playing with this band and how he's eventually stepping away from acting just in the background.
Hearing the third and final night in Birmingham for me was probably most exciting. I always thought Howdy! (2000) was a hidden gem. Plus, I had no idea what to expect in the second part filled with numerous B-sides. Some surprises and highlights were played and a very emotional moment happened in the end while the band performed the mantra-like ballad Broken – the audience joined in and kept singing on while the music slowly faded out. Just the right amount of goosebumps.
London vs. Birmingham
The three nights in London were magnificent as well, but the huge Electric Ballroom (capacity 1500) was tightly packed and the sound system appeared a bit dodgy. I found myself squeezed in between tall guys who wholeheartedly sang along all the while. They knew every word and had strong voices – I didn't hear much of the singing coming from stage. Which was fine, really. Another special thing about these Teenage Fanclub shows is seeing, how dedicated and devoted the fans are. There was happiness and passion all around and many broad smiles. The enthusiasm seemed unlimited.
The Fanclub-way
While Birmingham had a cover version of Madonna's Like A Virgin, the London show was finished off with their debut single Everything Flows. And yes, it's not really a song from their Creations catalogue but it made perfect sense. Choosing this anthem-like tune as a farewell and presenting it in a "charismatic, shambolic Fanclub-way" (to quote Brendan here) seemed appropriate in the context of the event.
Visiting these shows, was a joyous, intense experience. I've seen this band countless times in many different stages and cities. But hearing some songs for the first time live was remarkable. It showed again, how much good this music evokes. And that there's so much more incredible stuff in the Teenage Fanclub back-catalogue. Sidewinder, a song with Brendan on vocals was a true highlight. I had this song in my head for many days. Norman Blake's very stripped-down acoustic performance of If I Never See You Again was sublime and emotionally resonant. Furthermore, Thaw Me and My Uptight Life by Raymond McGinley were stellar and left a lasting impression on me. I'd love to hear these songs again in the future, when they carry on without Gerard Love. Of course, Gerry's presence and songs will be deepy missed. But after all, Teenage Fanclub life goes on! For next year, the band announced plenty of tour dates for Asia, Australia, North America and Europe. All German dates in April are supported by my beloved radio station ByteFM. See you there?!
4th December 2018