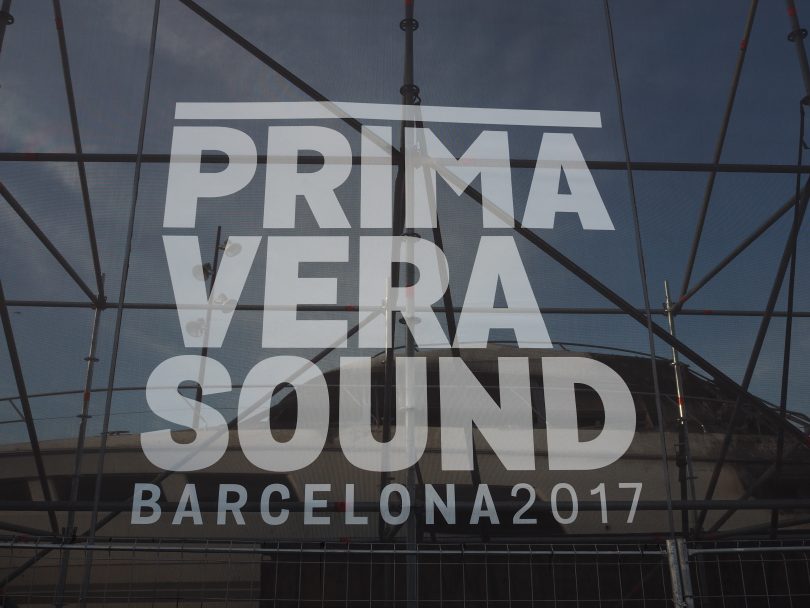 Das Primavera Sound Festival 2017
Ich hatte es geahnt, und deshalb war es längst überfällig gewesen, endlich einmal auf das Primavera zu reisen. Denn all das, was ich nicht mehr sehen möchte, sucht man hier vergeblich: Etwa Bierleichen, die sich bereits zu früher Nachmittagsstunde embryonal im Schlamm wälzen, oder auch ergänzend kuratierte Hippie-Events. Nein, all das gibt es nicht auf dem Primavera, und das ist erst einmal sehr angenehm. Stattdessen haben wir direkten Zugang zum Mittelmeer-Strand, Palmen, ein großzügiges (wenn auch weitenteils zubetoniertes) Gelände, auf dem die Zigtausenden in lockerem Abstand zueinander schlendern. Und ein Programm, das neue und alte Helden, sehr kleine und ziemlich große Nummern zwanglos vereint. Der offene Charakter des Festivals macht es möglich, Helden des Autoren-Technos inmitten einer Indie-Crowd zu entdecken, daneben ein intellektuelles Ehepaar um die 60. Alles bestens, und doch wollen wir ein paar Worte über Rahmen- und Produktionsbedingungen verlieren.
Da wäre zunächst einmal der überwältigend frequentierte Weißwein-Stand, ein untrügliches Signal für den Strukturwandel: Der urbane Freigeist stellt sich eben lieber für einen Schoppen an, anstatt die dünne Brühe des Festivalsponsors zu kippen. Ein Zeichen guten Geschmacks. Vielleicht sogar ein bisschen penetrant? Kommen wir damit zur Fressmeile: Sie wirkt wie die mobile Version eines aufgehübschten Straßenzugs – und das in Barcelona, einer Stadt, die schwer unter der Gentrifizierung ächzt. Organisches Essen wird aus anspruchsvoll designten Campinganhängern verkauft. Verdammt, sind wir in einer Jamie Oliver-Kochshow gelandet? Auf einmal nervt es, dass Kate Tempest gleich nebenan auf der "Adidas-Stage" spielt, wo sie doch in ihren Songs über Kinderarbeit in der Turnschuhproduktion lamentiert. Ok, ganz ruhig. Das sind die kleinen Lügen einer im Großen und Ganzen schwer anständigen Angelegenheit. Und damit zu einigen Musik-Highlights, vier unter 200 möglichen.
Kate Tempest
Adidas-Bühne hin oder her, der Auftritt von Kate Tempest war extrem gut, was auch daran lag, dass das Primavera-Publikum nicht einfach nur unterhalten werden möchte, sondern konzentriert zuhören kann. Die Londoner Wortkünstlerin kam wie immer in Straßenklamotten, unfrisiert und ohne Make-Up auf die Bühne. Und sie legte ein absolut ergreifendes Set hin, bei dem sich ihre Tracks mit Spoken-Word-Einlagen stetig abwechselten. So kam der Dancefloor zwischendurch zur Ruhe, nicht aber die Stimme von Kate Tempest, die sich über eine Welt am Abgrund in Rage rappte.
The Make-Up
Phänotypisch am anderen Ende der Skala: The Make-Up, die stilbildende Mod-Core-Legende aus Washington D.C., ehemals im Mao-Style, inzwischen kollektiv in glitzernde Elvis-Anzüge drapiert. Das Quartett präsentierte seinen Gospel Yeh-Yeh hysterisch wie eh und je, dabei frisch wie der junge Morgen – was daran liegen könnte, dass sich die Band extra für das Primavera reformiert haben soll. Das Publikum bekam keine historische Aufführungspraxis serviert, sondern ehrlich empfundenen, grundsympathischen Wahnsinn. Sänger Ian Svenonius verschwand schon nach wenigen Takten im Publikum und wäre noch vor Ende des ersten Songs fast an seinem Mikrofon erstickt. Beste Ansage: "Most rock bands think about bringing themselves to orgasm. Not The Make-Up!" -Yeh!
Sleaford Mods
Ein Gegenstück zu Kate Tempest ganz anderer Art: die notorischen Nörgler Sleaford Mods, ebenfalls anklagende Texte in unversöhnlichem Vortrag. Doch als sie zu zweit mit Laptop und einem Mikro auf die riesige "Ray-Ban-Stage" traten, wirkten sie etwas verloren, umso mehr, als sie der Sound im Stich ließ. Irgendwann dann aber doch die hinlänglich bekannte, geballte Wut, umhüllt von reduzierten Beats. Aber offen gestanden: Verglichen mit Großmeisterin Tempest wirkte der prollige Jason Williamson doch etwas eindimensional.
Teenage Fanclub
Herrlich unprätentiös zeigten sich am Samstagabend Teenage Fanclub. Die good old boys aus Glasgow lieferten einen schlichten und doch euphorischen Auftritt ab; das selige Publikum sang lauthals mit und zeigte sich bisweilen sogar textsicherer als der legendär zerstreute Sänger Norman Blake. Im Fanblock eine riesige schottische Flagge – wäre ja ein Grund, sich abermals zu echauffieren. Aber nein, lassen wir das. Aufregung passt einfach nicht zum Primavera, dem hübschesten aller Festivals auf massivem Grund.
P.S.: Avant-R'n'B Meister Frank Ocean hatte seine Teilnahme als Headliner kurzfristig abgesagt. Seine Präsenz auf dem Festival fiel daher anders aus, als geplant: in Form von Protest-Shirts mit der Aufschrift: "Fuck Ocean!"
Dieser Text erschien ebenfalls im Blog von ByteFM